The Mountains Whispered and the Canyon Sang
Essay Written by: Cate White
Cate White is originally from Northern California, she received a BA from Dominican University in 1994, and an MFA in 2010 from John F. Kennedy University's Arts and Consciousness program in Berkeley, CA. She was the 2014/15 Tournesol award recipient from Headlands Center for the Arts. Her work was been exhibited in Denmark, Los Angeles, New York City, Oakland, and Hayward.
_____________________________________
Old Stories, New Myths
In the halls of academia, all the old narratives of imperialist white supremacist capitalist patriarchy (bell hooks's term) have been called out for what they are: not descriptions of reality, but rather stories made up to justify and maintain power. But judging from the way things are going in the streets, it looks like the institutionalized attempts to create new narratives are failing to have much transformative effect. I suspect that this is because we haven't even begun to heal the generations-deep wounds inflicted by the old ones. We're like kids growing up in dysfunctional families who vow to do things differently, but end up recreating the same pain with new faces.
However, for people whose egos and social positions don't benefit from this system, these old narratives are easier to recognize. For their own psychic survival, the marginalized have always had to question the so-called truth. This is why perceptions possessed by minorities, working class people, poor people, street people, white trash, the uneducated (unindoctrinated?), women and queers are important. Not because it's politically correct to let us talk, but rather we are privy to perceptions that the comfortable have not had to access. Our collective freedom depends on these voices.
Luis Sahagun has one of these voices that carries far and wide. His realness allows him to connect with any social group—from the hood to the hills and whatever's in between. Intersectionality is the word used for that, but it just feels like wholeness.
If cultural healing depends upon revelation from the margins, Luis has much to offer. But where does Luis find revelation? He looks to his own margins—to the shadows of lost lives and to a yearning for a missed intimacy with nature. The work in The Mountains Whispered and the Canyon Sang arises from Luis's intention to open a door to the realm of the dead, which, intentional or not, allows the reality of violence into the room. To initiate this ritual in public is to offer a supported civic experience of shared pain—a pain from which no one is immune.
Although the most comfortable are often insulated from direct violence, it infects and affects each one of us. Luis's friends murdered in Chicago Heights were caught up in the same sweep of violence carried out with the arrival of the conquistadores, which began across oceans with the distortions of the teachings of Christ, or perhaps further back with our early wakening from participation mystique when lives became separate from life. Or can we trace this separation all the way back to the ultimate origin, the Big Bang? Is our cosmos the first shot fired? In that case, all issues are the same issue—our issue. And we may need to go that far back to find our way forward into a consciousness of true connectedness.
Luis's project—sourcing new knowledge in lost voices, creating new forms from new knowledge—is fueled by the psychic necessity to integrate all of his fragmented parts: one hand in Mayan soil; one foot in the stirrup of a conquistador; another foot on the streets of Chicago Heights; an arm wrapped around the livelihood of sheetrock, plaster and concrete; fingers typing applications to art institutions; a mind in translation between Spanish and English; and hood and museum. These fragments, when subjected to the alchemy of studio practice, become the icons of contemporary myth—a necessary foundation for relevant change.
Unlike narratives that limit perception, myths expand it—by employing sensation, emotion, color and form through story, character and archetype. Narratives pretend to be truth. Myths are metaphor. Truth is to be questioned or tyrannically enforced, while metaphor is to be experienced. We don't heal our hearts with our minds. We need new experiences for our bodies. Crying opens the heart for empathy, body heat transforms helpless rage into power, and sensual delight fuels the inexhaustible energy of joy and play that we need to continue in our shared struggle for wholeness.
Installation View of Exhibition
You Can't Kill Spirit
A collaboration between Luis Sahagun, Simantikos Dance Company (https://www.simantikos.com) and Sylvie Grace (https://soundcloud.com/sylviegrace).
This collaboration consisted of using my mother's breath and heartbeat to create sounds, melodies, and movements with the intent of channeling messages to my ancestors and friends that were murdered in the Chicago Southland due to gun violence and other social injustices.
Installation view of exhibition
The Soil Will Never Forget Our Names
A collaboration by Luis Sahagun, Matthew Motep Woods and Simantikos Dance Company.
The title of this video comes from the lyrics by Matt Motep Woods, (https://soundcloud.com/matthew-motep-woods/07-for-those-of-us).
Simantikos (https://www.simantikos.com)
Hasta La Raiz
foam,silicone caulk, hemp, and paper mache.
My Renewal of a Stolen Past
synthetic rope, beads, foam, fake pine tree, acrylic, ink
Next Time Will Be Better
A collaboration by Luis Sahagun, Matthew Motep Woods and Simantikos Dance Company (https://www.simantikos.com).
My Renewal of a Stolen Past
"Surviving the Hood" Panel Discussion
Panel Moderator, Faye Gleisser | Is an Assistant Professor at Indiana University Bloomington. Specializes in Modern and Contemporary art and the representation of histories of violence and radical resistance. Her dissertation considers the intersection of performance art, biopolitics, and technologies of surveillance in the 1960s and 1970s in the US and abroad through artists' deployment of guerrilla tactics. She received her PhD at Northwestern University in the department of Art History.
Panelist:, Matt Woods (& Luis Sahagun) | Matt won "Best of Show" awards for his figurative painting style from Art Pace while in Texas, then moved to Chicago to manage a service learning program initiative with 6th through 8th graders. This quickly led to a range of partnerships that allowed him to cultivate a teaching style that synthesized technology, popular education, and contemporary art with both grassroots organizations and public institutions.

In his personal work, aside from self-producing two albums (Savage Journey and Orfeus Uprising), Matt created and curated one of the flagship events at the start of a second wave of underground black artists and musicians. The Soul Sessions (started from his loft downtown) influenced, nurtured, and celebrated a cluster of Chicago creatives that are now internationally recognized.
About our conversation:
The idea of the panel discussion came to me when my friend and collaborator Matt Woods and I talked open heartedly about where we both come from. He asked me " how did you get out"? He was referencing the hood. In my work I talk about my friends that were murdered due to gun violence and other issues. So, I opened up to Matt and he in returned opened up to me. Matt is a talented vocalist that makes sounds about leaving the "hood" or his economically deprived neighborhood. He has a unique story that involves the black panthers, and moving from California to Texas and then to Chicago. Matt and I are both educators at the Museum of Contemporary arts and at other Museums and after school programs throughout the city of Chicago. What we have in common is trauma and guilt from surviving our friends and neighborhood, so that is why we both try to be artist that reach out to brown and black communities to try our best to empower.
Surviving the Hood, Conversation between Matt Woods and Luis Sahagun. Moderated by Faye Gleisser
Very special thanks to my fourteen teen students that were in attendance at the panel discussion and were, at the time, participants of the Smart's summer art program. Produced in partnership with the Smart Museum (University of Chicago) and the Chicago Housing Authority, the 6-week program explores public art and museums across Chicago. They were led by a team of mentors that includes historian Ashley Finigan, and myself, Luis Sahagun.
Thank you! Chicago Artist Coalition for the support, space and encouragement, Faye and Matt for your wisdom, empathy and your interest in participating, and of course everyone else that attended the talk, I appreciate your time, commitment and continual support of my artistic journey.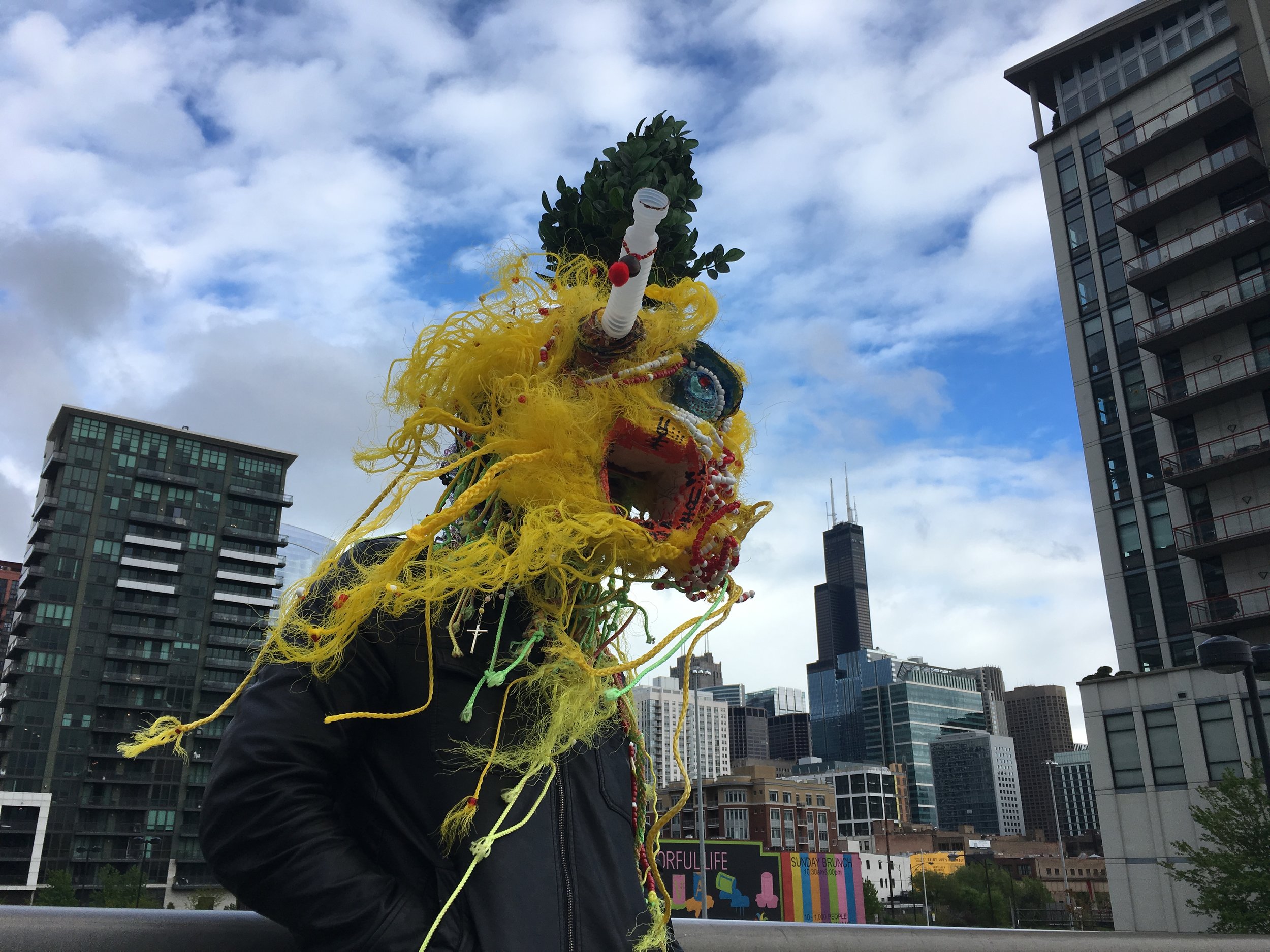 Angels Came to Hear Him Sing
During opening reception at Chicago Artist Coalition